Selecting the Best Wireless Cellular Connectivity Solution for Your Business
The use of cellular technology allows us to work remotely and stay connected on the go, but unreliable service and dropped calls still affect many cell phone users. Losing a call can frustrate businesses by negatively impacting customer service and reputation.
One way to solve poor cell reception is with wireless coverage solutions, which guarantee reliable connectivity to improve business efficiencies.
In our guide, Buyer's Guide: Wireless Solutions to Improve Cellular Coverage for Your Commericial Business, we examine some of the most popular cellular coverage options for offices, including Wi-Fi Calling, Network Extenders, Digital Applications, Cell Signal Boosters, and Distributed Antenna Systems (DAS). We compare these solutions head-to-head, clearly outlining the advantages and disadvantages of each option based on select key criteria
✔ Building size
✔ User capacity
✔ Security
✔ Reliability
✔ Cost
✔ Ease of installation
Download this guide to evaluate the best cellular connectivity options for your business or home.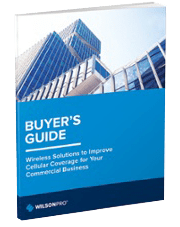 Fill out the form below to receive your free download!