Posted on January 17, 2017
Cellular Signal Solutions for Your Commercial Real Estate Portfolio
Estimated Reading Time: 3 minutes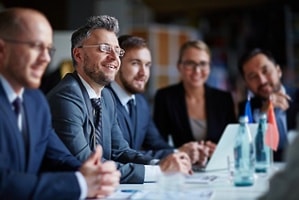 When it comes to poor indoor cellular signals, you need a 21st century solution to a 21st century problem.
In telecommunications networks, a standard base station (or cell phone tower) generally has a frequency range of up to thirteen square miles. Sometimes you find yourself in rural areas just at the edge – or even outside – of that range, resulting in frustratingly poor cell phone reception.
Finding  yourself in a sprawling urban environment with  the same substandard reception is even more frustrating.
It's a particularly frustrating problem in the real estate market. Although their buildings fall in the range of one, often multiple, cell towers, cellular signal within their walls can be non-existent due to many modern construction materials that degrade reception strength.
As vacant as their indoor signal coverage is, so too are their properties. Tenants simply aren't willing to rent space that doesn't allow for access to something as basic as cell phone reception.
There are ways to solve this cellular puzzle, but some prove more practical than others. Let's take a closer look at each.
Active DAS Solution
First, there's Active Distributed Antenna Systems (DAS). An Active DAS is used in large venues where mass crowds gather, such as football stadiums. It utilizes fiber-optic cables to transmit signals to remote locations, which then convert to radio frequencies.
This system is expensive -- routinely costing millions of dollars -- and difficult to install. An Active DAS must also be approved by the carrier affected due to FCC regulations. This scrutinizing process can take years to overcome.
Small Cells
Next, there are Small Cells. These "mini-towers" help extend, or boost, a network. There are three subsets of small cells, but all improve networks only by modest amounts.
Small cells also use existing broadband connections which means internet performance could decrease as a result. Some carriers even charge a monthly fee for operating one. Additionally, they will enhance cellular signal for only a single carrier.
Passive DAS
The last, and most effective solution, is Passive DAS. Unlike Active DAS, there is absolutely no carrier approval necessary to implement a Passive DAS because companies have determined these systems have little effect on their macro cellular network. As such, Passive DAS is truly a multi-carrier solution.
Additionally, when performed by a qualified team of technology professionals, installation of this system is less demanding than to Active DAS , which when combined with the lack of carrier approval means lower costs to the client.
Passive DAS is the leading system for providing companies with best-in-class indoor cellular communications. An established company of experienced wireless communication technicians from BlueCable Networx can work to deploy an affordable and reliable WilsonPro Passive DAS in your building.
Working with comprehensive planning strategies, customized systems and flexible project timelines, BlueCable Networx will bring freedom, confidence and increased productivity to the tenants of your property.
Contact BlueCable Networx to learn more about installing a Passive DAS solution at your property. Or, download the WilsonPro Buyer's Guide to look more closely at the various connectivity options available in the market.
Categories:
Commercial Buildings