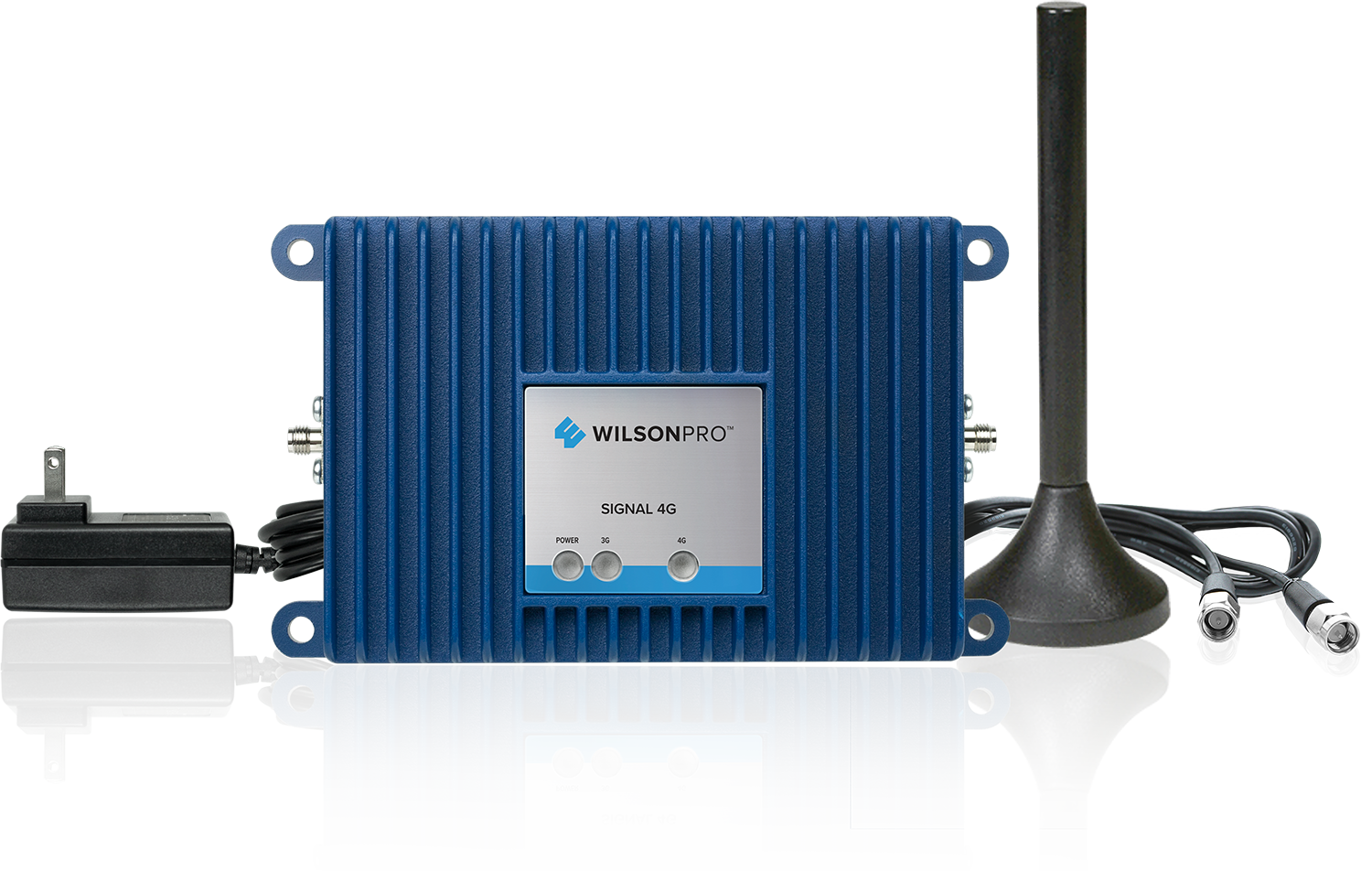 Pro Signal 4G
SKU: 460119F
Boosts 4G - Direct Connect Amplifier
Up to 15 dB Gain

Improves Transmission Speeds

Expansion kits available
Product Description

Pro Signal 4G
All Bands, Multi-Carrier Signal Booster 
Developed specially for M2M installations, the WilsonPro Signal 4GTM is based on the same field-tested, market-proven technology powering weBoost consumer cellular signal boosters. The Signal 4G is ready to integrate with cellular modems, providing reliable signal that ensures successful data transfer. This booster kit works with all North American wireless service provider networks. The Signal 4G's compact form factor makes it an ideal component for installations in weak signal environments. The Signal 4G kit includes the weBoost 4-inch mini magnet cellular antenna for maximum system gain to overcome weak signals. The Signal 4G is IC certified.
Availability of the Signal 4G allows OEMs to source a compact, powerful and highly compatible signal booster that is ready to deploy. Integrators can more easily custom design M2M communication systems that fit in tightly constrained spaces. In locations where cellular signals are weak due to distance from the cell site, terrain features, or building materials like concrete and steel, the Signal 4G provides a strong, reliable signal.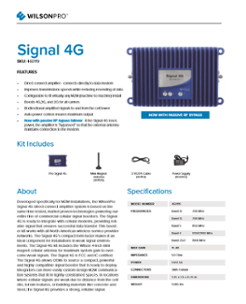 Download Spec Sheet
How it Works
The powerful antenna reaches out to access a 3G, 4G, and LTE data signal, and delivers it to the booster.
The booster amplifies the signal and serves as a relay between the cellular modem and the cell tower.
The cellular modem performs more efficiently as it feeds data to the booster and stays connected to the network.
Key Features
Direct connect amplifier - connects directly to data modem
Improves transmissions speeds while reducing resending of data
Configurable to fit virtually any M2M (Machine to Machine) installation
Boosts 4G, 3G, and 2G for all North American cellular networks
Bi-directional amplified signals to and from the cell tower
Auto-power control ensures maximum output
Passive RF bypass failover. If the Signal 4G loses power, the amplifier is "bypassed" so that the external antenna maintains connection to the modem
Self-optimizing design minimizes installation time
Three year warranty
Industry Canada certified
See what WilsonPro can do for you
FILL OUT THE FORM TO RECEIVE INFORMATION AND UPDATES