Posted on December 20, 2018
5G's Impact on Business and Boosters
Unless you've been living under a rock (and if you have, no wonder your cell signal is poor), you've probably been paying close attention to what's going on with 5G. You know it's coming and might be wondering when, or perhaps what 5G will really mean for better, stronger cell signal.
First, 5G promises a faster network, with data speeds greater than 1 Gbps. It also promises a more responsive network with low latency in the cellular environment, which will further enable the Internet of Things — or IoT —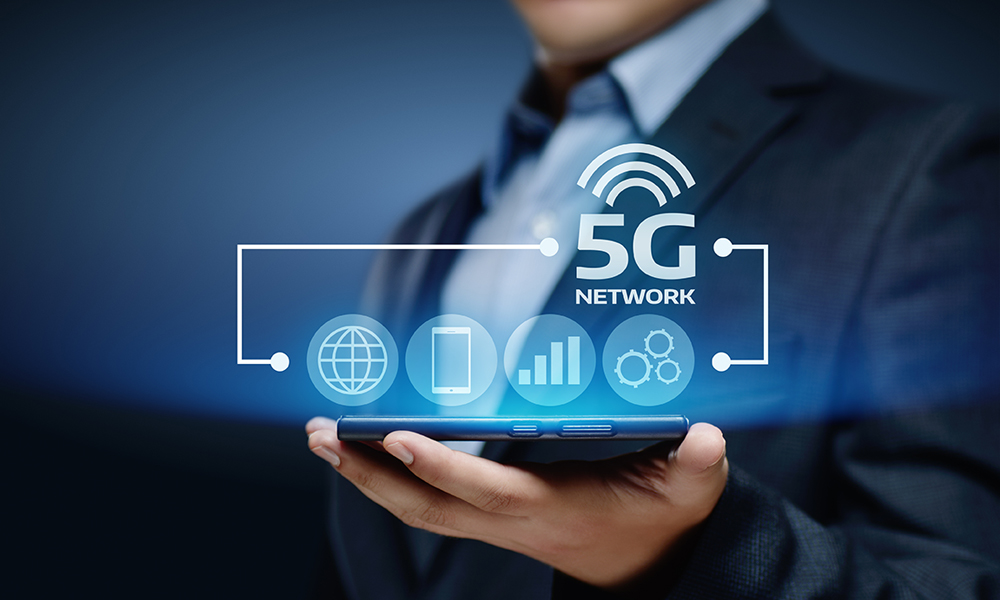 thanks to 5G's ability to connect multiple smart devices. There has been a lot of hype around 5G and it will indeed be a game changer.
With that in mind, it's important to understand the impact of 5G as it permeates businesses, how cell carriers will roll the new network out, and the role cellular signal booster and amplifiers will play as 5G ramps up.
Carrier Rollouts
The telecommunications industry has been laying the groundwork for 5G for quite some time, with Verizon and AT&T already undergoing trials in preparation for a rollout that will begin within the next 2-3 years. It's important to note, however, that this does not mean other networks will disappear. Instead, 5G networks will be built alongside today's 4G LTE network and function in tandem with it. 4G LTE networks will be an important existing layer and survive well into 2030. "New 5G service will require the 4G LTE network to act as the fallback network when a user is not covered by the new 5G service. This is an essential layer as 5G networks begin to densify in the coming years." says Chief Product Officer, Jeff Gudewicz.
Delivering high speed data wirelessly means that at some point the network has to transfer those wireless signals back to the wired network. 5G can give subscribers "fiber like" performance wirelessly, but at some point you have to get back to fiber. Interestingly, this was highlighted at the 2018 MWCA carrier CTO panel discussions where Verizon's Chief Network Officer, Nicola Palmer, gave some amazing statistics on Verizon's fiber infrastructure plans. To support 5G, Verizon is laying 12 Million miles of fiber. Also, many other carriers are building fiber infrastructure to support the network traffic and performance needs as 5G becomes a focus.
How 5G Works
There are essentially two paths to 5G. The first and most immediate path uses radio frequencies of less than 6GHz. When it comes to the long game, however, that will entail the creation of a radio network with higher millimeter wave frequencies, including as 28GHz, 37GHz, and 39GHz bands, which were approved by the FCC in 2016.
Because 5G will rely on some of the bandwidth that already exists, it's worth noting that each of the major cellular carriers own a chunk of the spectrum across several different bands. And with 5G, carrier aggregation will combine frequency from different bands to maximize the speeds and reduce latency.
On either path, cellular signal amplification solutions must be carrier-agnostic in order to improve service during the transition to 5G, and for the long term once it is more well established. Carrier aggregation will be required to deliver 1 Gbps of speed in the interim until 5G is fully in place. Case in point, demonstrations have shown that achieving a high data rate could currently be accomplished by aggregating 20MHz of 1800MHz spectrum plus 2 bands of 35MHz spectrum in the 2600MHz band.
What 5G Means for Businesses
There aren't many businesses that won't be impacted by the shift to 5G — from retail and financial, to healthcare and manufacturing. Not only will 5G catapult business functions by enabling them to do more, faster, it will also make them more secure and more responsive to customer needs. It's easy to envision further benefits when we consider the network's ability to enhance features such as augmented reality. Here are just a few examples of the benefits 5G will help businesses realize:
How our Boosters Work with 5G
Initially, it may seem like cell signal booster technology will play less of a role as 5G ramps up — but the opposite is actually true. 5G will require larger numbers of antennas and cell signal boosters to amplify signal everywhere it needs to be. So long as there are barriers to cell signal, booster technology will be paramount to the success of any network, regardless of latency or speed.
And as 5G sets the stage for more technological integration, the risks around dropped or non-existent signal actually increase exponentially. When we think about applications such as healthcare monitoring, self-driving cars, or industrial equipment, for example, it's easy to imagine how a loss of signal could be detrimental.
With an increased reliance on cellular connectivity in risky situations, signal enhancement products will play an even more integral role once 5G becomes a reality.
WilsonPro has been preparing for 5G for quite some time. "We support aggregation of bands, which is the first step to 5G for carriers. We've also led the effort in petitioning the FCC to allow boosting of the newest frequency bands released, including Band 71 and Band 41, which are owned by T-Mobile and Sprint. Our team has proven technical leadership to continue improving connectivity to whoever, wherever they need, including on the new 5G network." says Wilson Electronics CEO, Bruce Lancaster.
If you'd like to learn more about our cellular signal boosting solutions, contact us today.
Categories:
Cell Phone Signal Booster
Commercial Buildings
5G