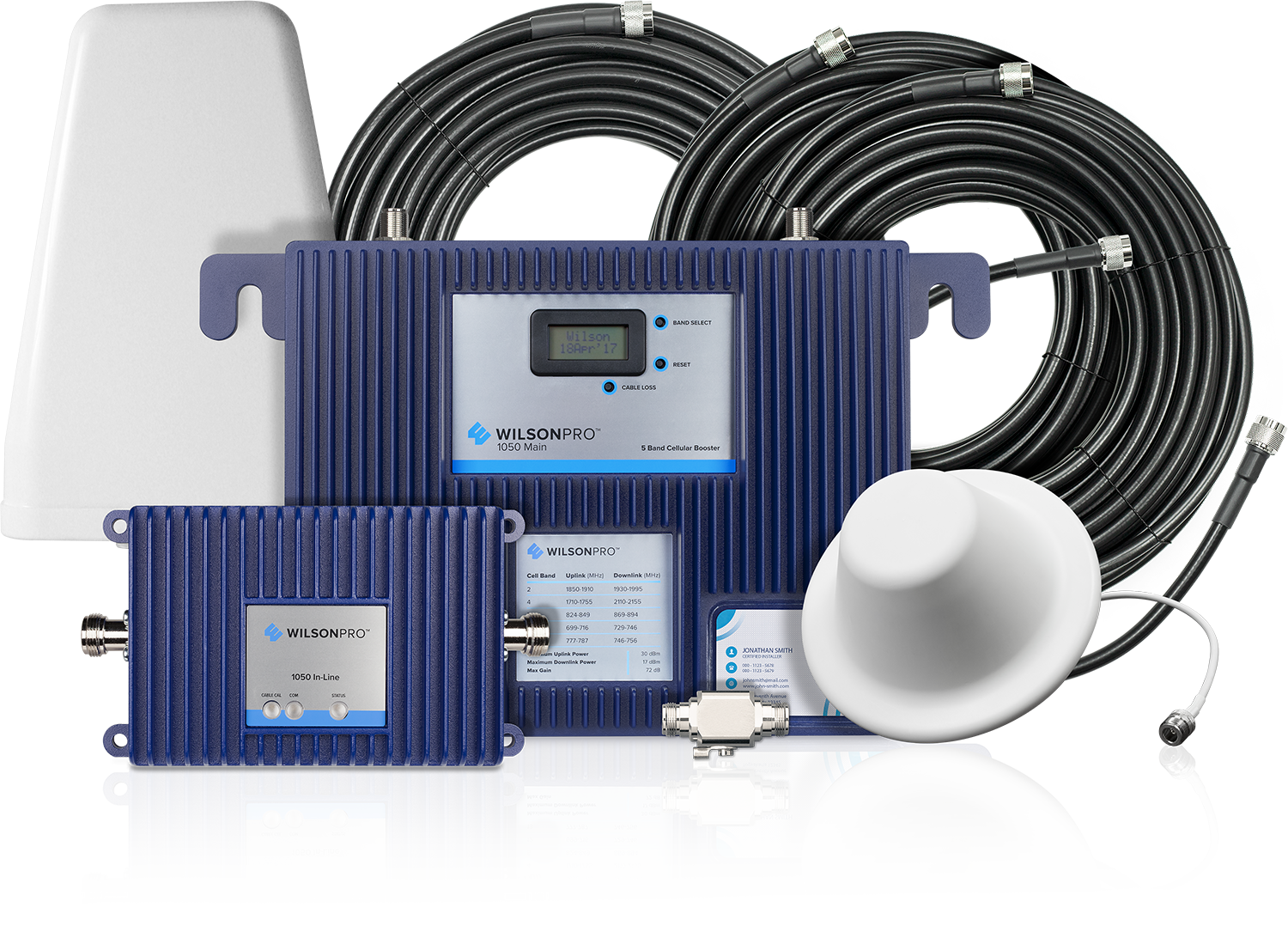 Pro 1050
SKU: 460230F
Boosts 4G LTE up to 35,000 sq. ft.
Boosts cell phone signal inside a building or large area

Up to 70 dB Gain

Expansion kits available
Product Description

Pro 1050
The WilsonPro Pro 1050 cell signal booster system provides significantly enhanced voice and data coverage including 4G LTE deep inside large homes or other buildings by compensating for signal loss caused by long cable runs. As cell signal moves over long lengths of coax cable some is lost, reducing booster system performance. The Pro 1050 booster system addresses this technical problem by employing two separate boosters - a main signal booster and a supplementary inline booster.
HOW THE PRO 1050 IS DIFFERENT
No other commercially available cell signal booster system uses the 1050's unique dual-amplifier design to compensate for signal that is lost over long lengths of cable. Wilson Electronics engineers designed the system so the Pro 1050 main and the inline booster communicate. Working together the two amplifiers determine the actual signal bleed along the cable run, and supply sufficient boost to compensate for this lost signal. 
In addition, the WilsonPro Pro 1050 features XDR Technology (eXtended Dynamic Range) that prevents overload conditions which can, in accordance with FCC regulations, force a booster to reduce power or even shut down.
This powerful dual-booster design allows clients with large homes to enjoy maximum indoor cell coverage - no more dropped calls or lost connections, faster uploads/downloads and a reliable, up to 32x stronger signal.
When the WilsonPro Pro 1050 senses that any incoming signal is too strong and threatens to overload the system, XDR automatically reduces signal gain to compensate for this overload condition while maintaining signal coverage throughout the building. In contrast, competing signal boosters shut down when they reach a maximum incoming signal strength threshold, causing the indoor cell signal to drop out.
The Pro 1050's inline booster works only with the WilsonPro Pro 1050 main, and cannot work as a stand alone booster. Nor can the inline booster work with any other cell signal booster. FCC regulations prohibit any sale or distribution of the inline booster except as part of the WilsonPro Pro 1050 system. Like all WilsonPro cell signal boosters, the WilsonPro Pro 1050 booster system is universal: it works for all cellular devices, all services including 4G LTE, and all U.S. and Canada cell phone carriers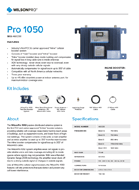 Download Spec Sheet
How it Works
Bidirectional amplifiers (boosters) detect and collect very faint cell signals—much fainter than your phone can detect.
The boosters amplify faint signals to a useable level.
The amplifiers broadcast the boosted signal inside a commercial building, allowing them to be picked up by your phone or other cellular device.
Key Features
XDR Technology (eXtended Dynamic Range) automatically adjusts gain and will remain operational, even in the presence of a very strong outside signal
Can compensate for up to 300 ft. of cable loss
Boosters sold in kits with antennas
Expansion kits available for large scale installations
Compatible with all North American cellular networks
Self-optimizing design minimizes installation time
Three year warranty
WilsonPro's first two-part booster system
 Ideal for
Large Commercial Spaces
> 30,000 sq. ft.
High Rises
See what WilsonPro can do for you
FILL OUT THE FORM TO RECEIVE INFORMATION AND UPDATES