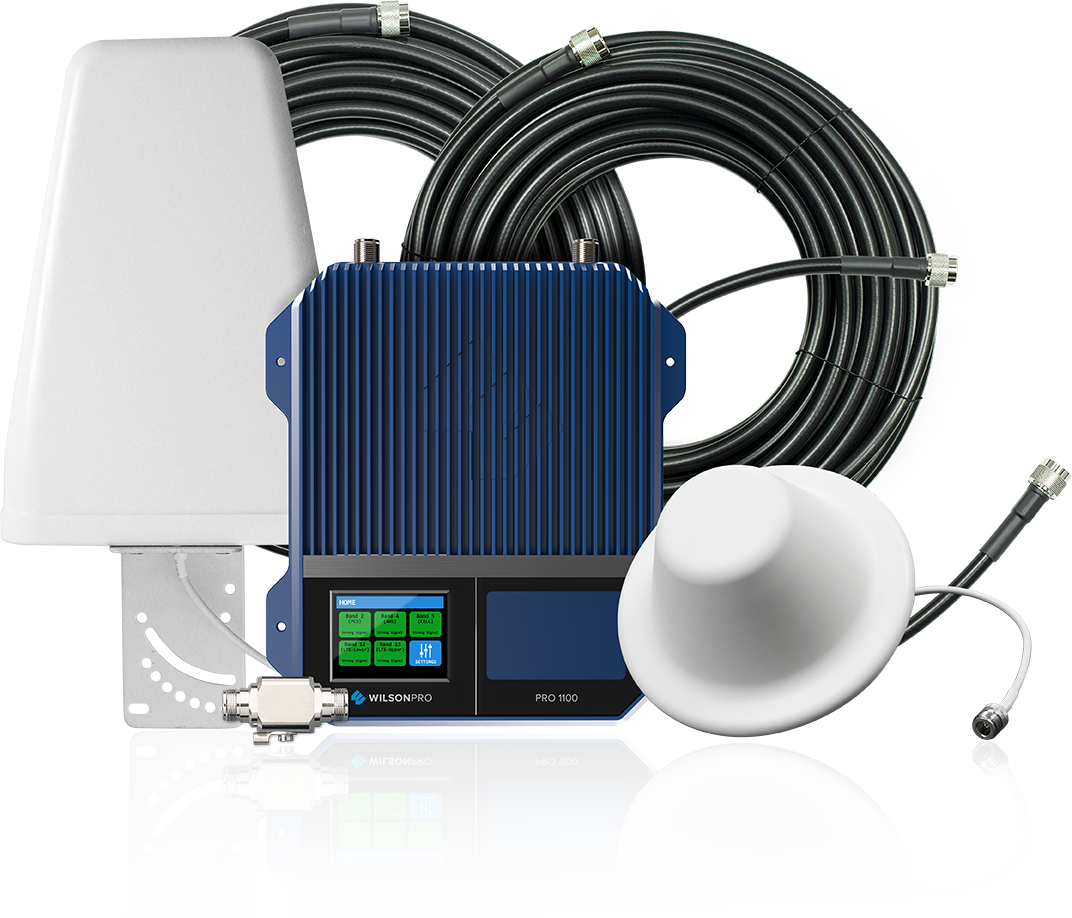 Pro 1100 (50 Ohm)
SKU: 460147F
Enhances cell coverage area up to 35,000 sq. ft.
25 dBm max uplink

Up to 70 dB Gain

Built-in XDR technology

Choice of 50 Ohm or 75 Ohm Kit
Product Description

Pro 1100 (50 Ohm)
Surprisingly powerful among its product category and price range, the WilsonPro Pro 1100 is part of our next generation professional-grade cell signal amplification technology.
Designed to reach far away cell towers, the Pro 1100 boasts a remarkable uplink power of up to 25 dBm and 15 dBm in downlink—roughly twice the power of competing amplifiers at its price point. With its built-in XDR technology, the Pro1100 offers continuous connectivity in a 35,000 sq. ft. coverage area—never overloading or shutting down due to a strong outside cell signal.
For greater control and usability, the Pro 1100 utilizes a color LCD touch screen, allowing users to troubleshoot, assess performance, adjust the outside antenna, and turn bands on and off. Its modern, intuitive design makes for easier antenna connection and wall-mount installation.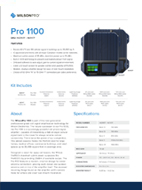 Download Spec Sheet
How it Works
Bidirectional amplifiers (boosters) detect and collect very faint cell signals—much fainter than your phone can detect.
The boosters amplify faint signals to a useable level.
The amplifiers broadcast the boosted signal inside a commercial building, allowing them to be picked up by your phone or other cellular device.
Key Features
FCC-approved and compatible with all major US mobile carrier networks
XDR Technology (eXtended Dynamic Range) automatically adjusts gain and will remain operational, even in the presence of a very strong outside signal
+25 dBm maximum uplink power, +15 dBm maximum downlink power
Covers up to 35,000 sq. ft. with enhanced cell signal on all available network speeds
Ability to turn off specific frequency bands
Color LCD touchscreen display, indicating gain and power levels of each band, for easy antenna setup, control, and troubleshooting
Choice of 50 Ohm "N" or 75 Ohm "F" connectors per cable preference
 Ideal for
Midsize Commercial Spaces
< 35,000 sq. ft.
See what WilsonPro can do for you
FILL OUT THE FORM TO RECEIVE INFORMATION AND UPDATES